AP Teachers Transfers application has been placed in AP Online web portal. A demo to all 13 districts District Educational Officers (DEO) has been given through the video conference at concerned NIC centers of district headquarters by the Commissioner of School Education, Andhra Pradesh. In the video conference Commissioner of School Education instructed to DEO concerned to upload at least 30 records in model transfer application and check the validity of the transfer online application.
The model transfer application, which is placed in AP Online web portal for the purpose of AP Teachers Transfers, having 30 columns for teacher's transfers of 13 districts of Andhra Pradesh. The online transfer application fields for the purpose of web counseling is as follows.
Model AP Teachers Transfers Application
The following is the model transfer application columns. Teachers who are willing to transfers and those who completed 8 years of service in same station download the application before filling the online application and check the correctness of the particulars furnished.
AP Teachers Transfers 2015 Application Form 
1.District  
:
2.Zonal Code 
:
3.Mandal 
:
4.Name of the Individual seeking Transfer 
:
5.Mobile Number
:
6.Aadhaar Number 
:
7.Employee Treasury Code 
:
8.Date of Birth
:
9.Gender
:
10.Maritial Status 
:
11.Category of the Post 
:
10.Subject
:
12.Medium of School 
:
13. Management of the School
:
14.School Type
:
15.Name of the School
:
16.School Code
:
17.Date from which the Individual is working in the Present School in all Categories of Posts.
:
18.Category Of the School 
:
18(A). Is there any change in Category Of the School in Previous 8yrs
:
18(B).Category Of the School
:
18(C).Previous Category Dates
:
18(D).Present Category Dates 
:
Category wise Points
:
19.Whether the Individual has completed 8 yrs of Service as on 31st May, 2015 in All Categories of Posts in School. Yes/No
:
20.Whether the Individual is Male Headmaster Grade-II/Teacher Aged below 50 years as on 31st May, 2015 of the year and working in Girls High School 
:
20(A). Date of Joining in that school 
:
21.Rationalization(Have you affected under Rationalization process) Yes/NO
:
22.Date of First Appointment in service
:
22(A). First appointed Category of the post 
:
23.Whether he/she is President or General Secretary of the District/State of Recognized Association
:
24.Whether spouse is Employee of State Govt/Central Govt/Public Sector Undertaking/Local body / Aided Institution in the same district(in the same zone for Gazetted Head Master, Gr.II in Govt Schools )  
:
24 (A).Treasury ID
:
24 (B).Name of the Spouse 
:
24 (C).Designation 
:
24 (D).Name of the Institution/Organization 
:
24 (E).District 
:
24 (F).Mandal 
:
25.Whether the Teacher availed the benefit under Individual/Spouse Category During the Last 8 years as on 31st May, 2015 Yes/NO
:
25(A).Whether Interested to avail Spouse benefit  
:
26.Whether the Teacher willing to Teach in English Medium in English Medium Schools/Parallel Sections Yes/NO
:
27.Whether the Physical Science Teacher is willing to Teach Mathematics in Future  
:
27(A).Are you Teach Mathematics Continuously in Future Yes/No
:
28.Performance Parameters
:
A.The Teachers who have got National or State award issued by the Central / State Government.
:
Whether the Teacher is avail the benefit under this previous Yes/NO
:
29.Teacher Irregular attendence / Unauthorised absence, not completing syllabus 
:
30.Whether the individual availed the benefit under Preferential category during the last 8 years as on 31st May, 2015 Yes/NO
:
31. Whether the individual wants to claim under Preferential Category 
:
31(A) Select Prefererancial Category 
:
Click Here to view model application form
Download Teachers Transfers Model Application Form Click Here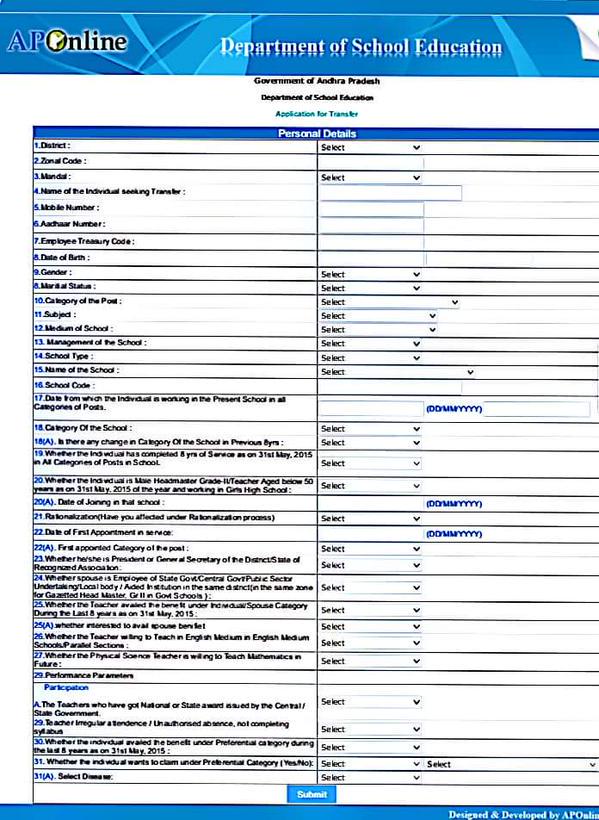 AP Transfer Related GOs
AP Teachers Transfer Related GOs