Primary School SA-2 exams postponed and it will be held from 17/04/2018 to 20/04/2018
Press not has been released by the AP School Education for postponement of SA-2 exams due bundh called by political parties on 16/04/2018. Andhra Pradesh political parties has been called for AP State bundh on 16/4/2018 for Special Status to Andhra Pradesh. Keeping in view of this Maths summative-2 examinations for the classes VI to X has been postponed to 17/04/2018. Maths Paper-2 Summative exam will be conducted same day of 17/04/2018.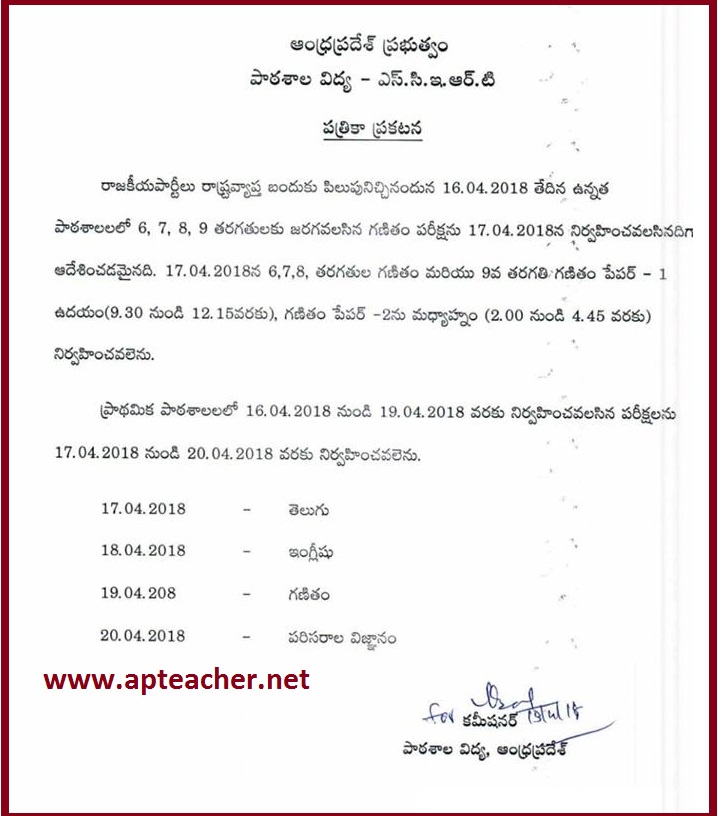 Primary School SA-2 exams postponed and it will be held from 17/04/2018 to 20/04/2018 as follows
SA2 Revised Timetable
17/04/208 -- Telugu
18/04/2018 -- English
19/04/2018 -- Mathematics
20/04/2018 -- EVS
Summative Examination Schedule to all Management Schools
In this regard all the RJDSEs, DEOs in the Andhra Pradesh State are requested to Communicate Examination Schedule to all Schools and under all Managements in their respective districts and also follow the guidelines mentioned already circulated by Commissioner of School Education, Andhra Pradesh
Role of School Head Masters
All the Headmaster of all Managements are hereby informed that all the MRCs or all Mandals are arranged as Key Centers under the Supervision of Mandal Educational Officers.
Headmaster is the first level monitoring officer for smooth conduct of Summative Assessment 2 without any deviation
Headmaster should verify seals of the Question Paper bundles at the time or receiving from the Cluster Resource Person.
If the headmaster identify any damage to the seal or the question paper bundle communicate the information to MEO
The Headmasters are responsible for safe custody or the Question Paper bundles. Question Paper Bundle is to be opened 15 minutes before the commencement or the examination every day.
The Headmasters are requested to attend in their respective MRCs on 07-04-2018 to verify the adequacy of Question Papers and preserve the Question Paper Bundles in their own trunk boxes.
Role School Complex Head Master
The School Complex Headmaster should collect Question Papers One day before the examination.
The School Complex Headmaster preserve the Question Papers in Iron safe.
The School Complex Headmaster is held responsible to maintain strict confidentiality.
School Complex Headmaster should distribute Question Paper bundles to (he concerned High Schools through the Cluster Resource Persons (CRP) onlv one hour before the examination.
This should be done every day by the School Complex Headmaster till the completion of the examinations.
Role of MEO:
The Mandal Educational Officer is held responsible to keep all th Question Papers in the Strong Room.
The Mandal Educational Officer should inform all the School Headmaster to receive Question Papers One day before each Examination.
The Mandal Educational Officer should not give all the Question Papers at a time to School Complex Headmasters. Role of DCEB Secretary:
DCEB. Secretary is held responsible to print and supply of question papers to al schools under all managements.
DCEB. Secretary communicate information regarding distribution of question papers from the confidential printers to all MEOs for receiving of confidential material.
Make arrangements for supply of question papers from buffer stock wherever necessary in the district.
Role of DEO
DEO is the district level monitoring officer to monitor the conduct of examinations in the district by duly maintaining confidentiality.
Conduct One clay meeting with all MF.Os on the modalities of receiving and distribution of question papers.
Communicate examination schedule to nil the School Headmaster and instruct them to follow the guidelines.
Give strict instructions to all Dy.E.Os. MEOs. School I lead Masters for conduct of examinations without any mal practices.
Monitor post examination activities such as valuation of answer scripts and uploading students performance in CCE website on or before 30.04.2018.
Role of RJDSE
RJDSEs in the state shall monitor the process of Summative - II examinations in all schools under all managements in their respective region.
Check whether the MEOs. School Complex Head Masters. School Head Masters follow guidelines in conduct of examinations.
Download Related Proceedings
Revised Summative-II Exam Timetable | Rc.3 Dt:06/04/2018 Click Here
Summative-II Exam Timetable and Action Plan Click Here