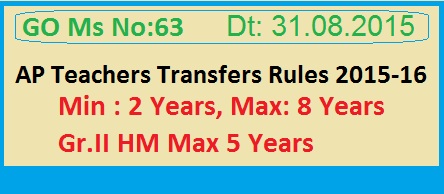 GO 63, AP teachers transfers rules has been released on 30/08/2015 by the Education department of AP, GO Ms No.63 deals rules and regulation of AP Teachers Transfers like Maximum and Minimum year to apply for transfes, Entitlement Points, Counseling dates, Criteria for teachers transfers, Performance Related points, Institution related points, Individual related points, Special points. The GO 63 of AP teachers transfers is briefed below. in the first week of June, 2015 and the movement of employees during this period is likely to cause large scale administrative inconvenience in implementing the above programme.
To facilitate and regulate the transfers of HM Grade II Gazetted and teachers working in Government / ZPP / MPP schools in AP School Education Service and APES Subordinate Service, Government have decided to issue rules relating to transfers.
Need to Rationalize the Staff in Schools
As per Right to Education (RTE) Act 2009, every child in age group of 6 to 14 years will have to be provided upto Eight years of Elementary Education on admission to an age appropriate class in the vicinity of his / her neighborhood. Further, there is a need to rationalize the staff in schools and posts in Primary and UP as there are some schools with over strength of students vis-àvis the sanctioned teaching posts and on the other hand some schools with uneconomic strength of students with more teachers. Government also desired to ensure appropriate school/class level teacher – pupil ratio and strengthen academic monitoring / support to teachers at mandal and divisional level. Keeping the above in view, there is need to regulate the staffing pattern by way of transfers.
AP Teachers Transfers Apply Online
AP Government have decided to call for the applications for transfer of teachers through online and conduct web counseling duly obtaining the options as was done in the transfer counseling of A.P. Model Schools, Admission into DIETCET etc. The HM/teachers shall apply online in the IP address given for the purpose.
Transfers Online Application
The Headmasters/teachers shall apply for transfer in the prescribed online services for web based allotment at https://cse.ap.gov.in
Only online applications received through the website will be considered for transfer.
The applicants shall thereafter obtain the printout of the application from the specified website and submit the same duly signed to their respective authorities, viz., Mandal Educational Officer/Headmaster High School/Deputy Educational Officer, as the case may be. (This is only for verification – hard copies are not processed for transfer).
The Headmaster Gr.II Gazetted / Teacher who is eligible as per the criteria prescribed in Rule 5 may apply online through website specified for the purpose in the prescribed proforma and the particulars furnished in the proforma shall be final and no modification shall be allowed.
An applicant seeking to apply under Preferential categories / spouse category shall also submit along with application the latest certificate from the competent authority in that regard.
After receipt of applications, the authorities concerned shall display the provisional seniority lists and call for objections if any. After redressing the objections / grievances, the authority shall display the final seniority along with the entitlement points in the website / notice board.
Once the Headmaster / teacher submits an application through online it shall be final. No teacher is allowed to apply twice on online
If any Headmaster Gr.II Gazetted / Teacher who is compulsorily transferable under Rule 5 does not apply online or having applied does not attend the counselling (physical or online), he/she will be transferred to the available left over needy vacancies.

Download GO 63 AP Teachers Transfers 2015 Rules, Regulation of Transfers Click Here