AP Residential Educational Institutes(APREIS) Nampally, Hyderabad has been issued the notification for admission into 5th Class for the academic year 2017-18. AP Residential Educational Institutes is also called as AP Gurukula Educational Institutes. APREIS/Gurukula 5th Class admissions will be through the entrance test. which will be conducted on 05/03/2017(Sunday) from 11.00 AM to 1.00 PM in all revenue divisional centers. The students who qualified as per the reservation can join in the APREIS maintaining 38 general and 15 minority residential schools across the AP. The entrance test will be in Telugu/English medium. The standard of the entrance test will be in 4th Class.

Ranked candidates can get admission in to 58 General, 12 Minority Schools. The Andhra Pradesh Residential School, Kodigenahalli (APRSK), Tadikonda are also included in test

.
Overview APREIS Important Dates
Start of Application Online : 05-01-2017
Last date of submission online : 06/02/2017, 4.00PM
Date of Examination : 05/03/2017 ; 11.00 AM to 1.00 PM;;
Results : May 2017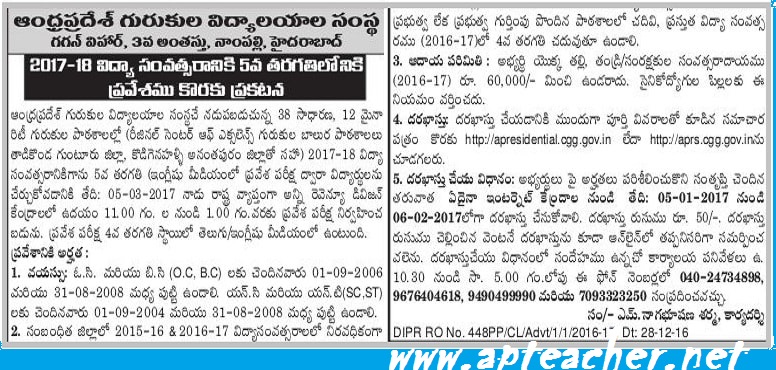 Age Limit
Students belongs OC /BC should born between 01-09-2006 to 31-08-2008 . In case of SC/ ST students should born between 01-09-2004 to 31-08-2008. Candidates, who want to avail the reservation category should submit their caste certificate.
Annual Income
Annual Income of the father/mother of candidates for the financial year 2017-18 should not exceed Rs.60,000/- . For children of the ex-service man this rule not applicable.
Eligibility Criteria
Student should continuously study in the academic years 2015-16 and 2016-17 without any break. And at present he/ she should be in class IV.
How to Apply
Students should apply only through the online. To apply online one should login www.apresidential.cgg.gov.in or www.aprs.cgg.gov.in. The date to apply online should start from 05-01-2017 to 06/02/2017. Candidates can apply from AP Online centers or any other internet centers. Application fee is Rs 50/-. If any queries regarding the admissions can cantact through the phone 9100030711, 040-24734898 and 7093323253 in all working days from 10.30 AM to 5.00 PM.
Download 5th Class Gurukula(APREIS) Admissions 2017-18 Entrance Test Notification Click Here
Online APREIS Application Click Here