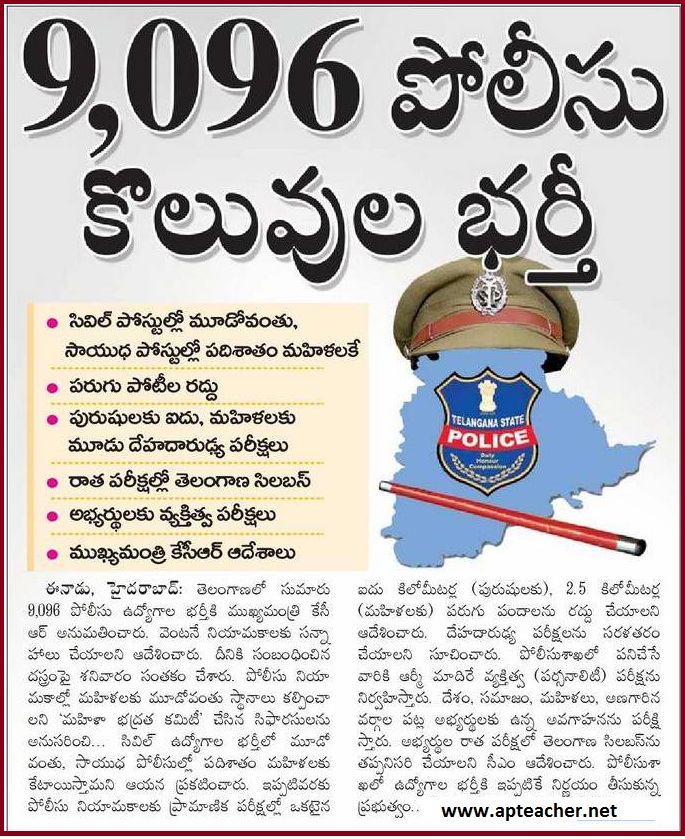 Telangana Chief Minister K Chandra Sekhar Rao has given nod to fill about 9096 vacancies in police department and he signed on the relevant documents . This is huge job notification in recent years after formation of Telangana State. CM KCR also ordered officials to take steps immediately to fill the vacancies. In appointments one third of posts will be given to women quota. The women quota will be 33.3% in civil and 10% in armed forces.
Overview of Police Vacancies
Total Number of Posts to be filled in Police Department: 8401

Civil Constables : 1880
Armed Constables : 2800
Special Police Constables : 3200
Civil Sub Inspector : 107
Armed SI : 91
Special Police SI : 288
Communication Sub-Inspectors: 35

Special Protection Force Vacancies : 186

Special Protection Sub-Inspectors : 12
Special Protection Constable : 174

Fire Department
509

Firemen, Driver : 500
Fire department SI : 9
Earlier, 5 km run for men and 2.5 km run for women as part of the Physical Efficiency Test, due to which many has prey to death during the running. But now it was decided to put an end to the old practice of 5 km run for Men and 2.5 km run for women.
Previously, males had to complete five sections 800-metre run, high jump, long jump, shot-put, , 100-metre run and woman had to clear three sections namely 100-metre run, shot-put, long jump. But now the aspirants enough to clear two sections along 800 meters run and women has clear any one session along with 100 meters run.