Rc.No.20,Dated: 22-02-2016 has been issued by the Director of Govt. Examinations regarding the dates of SSC/10th Class Spot Valuation of SSC Public Examinations March 2016 , Appointment of examiners and certain instructions given to the all DEOs of Telangana State. TS DGE has been informed, the SSC/10th class Public Examinations March 2016 will be conducted from 21/03/2016 to 09/04/2016 and the Spot Valuation of the SSC Public Examinations(Annual Exams) March 2016 will be conducted from 11/04/2016 to 25/04/2016 for 15 days continuously in a single spell throughout the Telangana state in (11) spot valuation centers situated in district head quarters.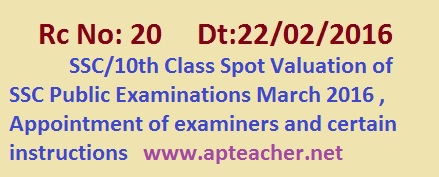 Overview Rc No.20
TS SSC Public Exams March 2016: from 21/03/2016 to 09/04/2016
Spot Valuation of TS SSC March 2016: 11/04/2016 to 25/04/2016
AEs/ CEs /Spl Assts reporting day: 11/04/2016(Reorientation Programme)
All AEs/ CEs /Spl Assts has to report the Camp Officer of concerned district On 11-04-2016 without fail. Reorientation Programme will be conducted on Bar coding system, using demo OMRs and audio video CD (old) to be supplied in the forenoon session and valuation to be commenced in afternoon session.
Telangana DGE has requested all DEOs regarding to prepare a schedule and plan of action so that valuation of the Answer Scripts of all paper codes allotted to your camp is completed within the scheduled period duly following the guidelines issued by the competent authority. DEO should plan accordingly and under no circumstances the camps shall be extended beyond the given date. Further it is requested to make all necessary arrangements for the conduct of spot valuation camp in smooth manner. The booklet containing detailed instructions for conduct of spot valuation will be sent through the Special Messenger so deputed for receiving the confidential material.
Read More