Telangana Government has been started new Treasury Website to perform government financial transactions online. Through this Telangana Treasury website all Telangana Government Employees can get their salaries every month. For this, Drawing and Disbursing Officers should need submit the pay details of their employees using DDO Code and Employee Treasury id which was assigned by the treasury. The official website for Telangana Govt Financial Transactions is https://treasury.telangana.gov.in .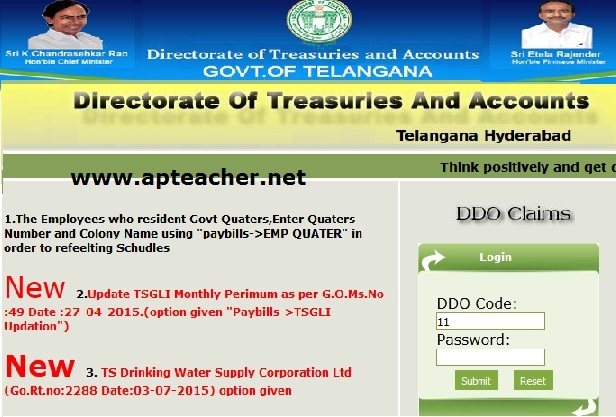 Payment of Salaries Through TG Cyber Treasury
Telangana Employees can get their monthly salaries with the help of DDO Request(ddoreq) Link of Telangana Cyber Treasury website. Drawing Disbursing Officer(DDO) should take whole responsibility to enter all pay details of the employees of their jurisdiction.
Login to the TS DDO Request(ddoreq) by DDO
DDO can login to the website DDO Request(ddoreq) by submitting DDO Code as login id and password. The DDO Code is eleven digit number supplied by the Telangana Cyber Treasury. The first four digit of the DDO Code refers Mandal, Second four digit refers department code and last three digits refers DDO Office in the Mandal.
Enroll Employee Details in Treasury Website
Every Telangana Government employee having Employee Seven Digit Treasury Id which was assigned by the concerned district treasury for salary purpose. DDO should enroll in treasury website payroll package software, the pay details of the employees with reference to the service register of the individual or Last Pay Certificate(LPC). ZPPF, TSGLI, GIS, PT, GPS, ZPPF Loan, TSGLI Loan deductions should be enroll in order to deduct the subscriptions and Loan amounts.
How to Prepare Salary Bills using to DDO Request and complete
DDO are requesting to follow following steps to prepare salary of their employees.
Login to the website https://treasury.telangana.gov.in/ddoreq/
Enter 11 digit DDO Code of the office given by the Telangana Treasury .
Enter secret password to get the Salary Package system.
Click on the Pay Bills link in the left side menu.
In the dropdown list, Select " Pay Bill Preparation ".
Then Select Bill Id and enter Month and Year.
Select desired candidates in the Increments box provided.
Click Next button to complete Pay Bill preparation.
After preparing the pay bills need Click on the DDO Bill Submission Menu by selecting form number and Head of Account..
Take printout using reports link provided in the menu .