Dr.BRAOU has been released the B.Ed entrance test notification 2018 in distance mode. Dr B.R Ambedkar Open University has invited online applications for the B.Ed, B.Ed Special Education two years course. The complete information regarding BRAOU B.Ed two years course entrance test is available at www.braou.ac.in
The B.Ed two years course notification 2018 by Dr.BRAOU, which is recognized by NCTE and RCI has been released. The duration of the B.Ed/B.Ed(Spl.Edn) is two years. Desired candidates who wants to pursue B.Ed course in distance mode can now apply through the online mode.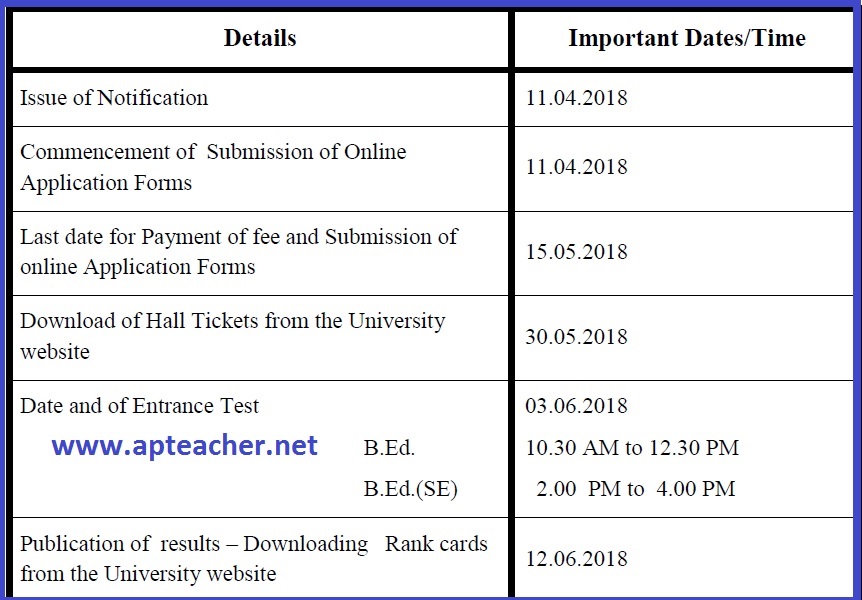 How to Register Online
Candidates have to login to the website www.braouonline.in and pay registration fee in TS/APOnline franchise only. Before going to fill the online BRAOU B.Ed Admission form candidates have to take SS Certificate, Graduation Certificates, PH Certificates. Candidates have to pay registration fee at TS/APOnline Centers and upload singed photograph in the website.
Details of 2 Years B.Ed/B.Ed(SE) Course
Name of the Course: B.Ed (Bachelor of Education) Duration: 2 years
Medium: Telugu
Course Fee: The Programme fee is Rs. 25,000/- for the entire programme of two years. The total fee has to be paid at the time of admission in single payment through Demand Draft.
BRAOU B.Ed/B.Ed(SE) Entrance Important Dates
Details
Important Dates/Time
Issue of Notification
11.04.2018
Commencement of Submission of Online Application Forms
11.04.2018
Last date for Payment of fee and Submission of online Application Forms
15.05.2018
Download of Hall Tickets from the University website
30.05.2018
Date and of Entrance Test
B.Ed.
B.Ed.(SE)
03.06.2018
10.30 AM to 12.30 PM
2.00 PM to 4.00 PM
Publication of results – Downloading Rank cards from the University website
12.06.2018
Admission Counselling I Phase
II Phase
2nd and 3rd Week of July -2018
1st Week of August -2018
Documents and others details required B.Ed
SSC/Equivalent/Date of Birth Certificate
Degree/PG Marks Memos and Provisional /Convocation certificate.
NCTE recognised Elementary Teacher Education Programme completion Certificate.
Medical Board Certificate (for PH candidates issued by Competent Authority)
Latest Passport size Photo with Signature (JPEG format and less than 60 KB).
AADHAR Card / any other ID Card issued by the Government
E-Mail ID
Mobile Phone Number
Alternative Mobile Phone Number
B.Ed Eligibility
The candidate should be an Indian citizen.
Candidates should have passed with at least 50% of marks either B.A./B.Sc./B.Com./B.C.A./B.Sc.(Home Science)/ BBM and/or the Masters Degree in Science/Social Sciences/Humanities (relevant subject of Pedagogy) at the time of submitting the application for B.Ed. Entrance Test. Candidates should have secured a minimum of 55% marks in B.E/B.Tech. with Science/Mathematics as one of the subjects or any other qualification equivalent thereto, are eligible for admission into the B.Ed. (ODL) Programme. However the candidates belonging to SC/ST/BC/PWD should have secured a minimum of 40% marks in the qualifying examination.
Candidates who are appearing for final year examination in the Qualifying Examination (Bachelor or a Master Degree) can also apply. But they should be required to submit the Marks Memo and Pass Certificate (Provisional Certificate) of Qualifying examination at the time of Admission Counselling. Otherwise they are not allowed for admission.
Apart from the above the candidates must fulfil any one of the following conditions as per NCTE-2014 Regulations.
i. Should be Trained in-service Teachers in Elementary Education (NCTE recognised Teacher Training completed in-service Teachers in Elementary Education i.e. working in Govt/Aided/Local Body/ Govt. Recognised Schools).
ii. Should have completed NCTE recognised Teacher Education programme in Elementary Education through face-to-face mode (TTC/D.Ed./D.El.Ed./ B.El.Ed./TPT/HPT/UPT/B.P.Ed./D.P.Ed.-Qualification is must).
The reservation for SC/ST/BC/PWD categories shall be as per the rules in vogue.
Candidate should have completed 21 years as on 1st July 2018. There shall be no upper age limit.
Medium : Telugu
Tuition Fee : Rs.25, 000/- to be paid at the time of Admission for the entire programme of two years.
Duration : 2 Academic years
Syllabus for entrance test
The Entrance Test Question Paper will have 3 parts for 100 Marks with 100 Objective type (Multiple Choice) questions.
Part-I: General English Comprehension (25 Marks)
Part-II: Proficiency in Telugu ( 25 Marks)
Part-III: General Mental Ability ( 50 Marks)
Registration Fee, Date of Examination
| Programme | Medium | Registration Fee | Date of Examination |
| --- | --- | --- | --- |
| B.Ed(Two Years) | Telugu | Rs 435/- | 03/06/2018 , 10.30 A M to 12.30 PM |
| B.Ed(Spl.Edn) | Telugu | Rs 435/- | 03/06/2018 , 2.00 PM to 4.00 PM |
BRAOU B.Ed Program Details
The B.Ed. Programme offered by Dr. BRAOU is an innovative programme utilizing self-instructional material and information technology along with interactive personal contact programmes.The Programme is essentially a judicious mix of theoretical and practical courses to develop the practicing teacher"s knowledge, skills, understanding and attitudes. Illustrations and cases of relevant situations and need-based activities comprise the core of each course of the programme. It aims at developing understanding and competencies required by practicing teachers for effective teaching-learning process at the secondary stage.
BRAOU B.Ed Program Objectives
The programme aims to enable practising teachers to achieve the following objectives:
To strengthen the professional competencies of in-service teachers.
To develop an understanding of the various methods and approaches of organising learning experiences for secondary school students.
To understand the nature of the learning process and develop skills required in selecting and organising learning experiences.
To develop skills involved in dealing with the academic and personal problems of learners.
To develop skills in selection, development and usage of evaluation tools and to develop an understanding of the various techniques of evaluation in the classroom.
To develop an understanding of various aspects of school management in organising various instructional and co-curricular activities.
More about BRAOU B.Ed/B.Ed(SE) Notification Details