To join in prestigious OSMANIA UNIVERSITY Hyderabad, which is reaccredited with Grade A by NAAC, OSMANIA UNIVERSITY Postgraduate Engineering Common Entrance Test (PGCET-2015) applications are invited from the aspirants for admission into M.E / M.Tech. / M.Pharm. / M. Arch. / Graduate level Pharm. D (P.B.) (Full Time) in University and Affiliated Engineering / Pharmacy Colleges in Telangana State for the academic year 2016-17.
Eligibility, Selection Criteria, Courses Offered, How to Submit Online, Registration Process, Important Dates is as follows.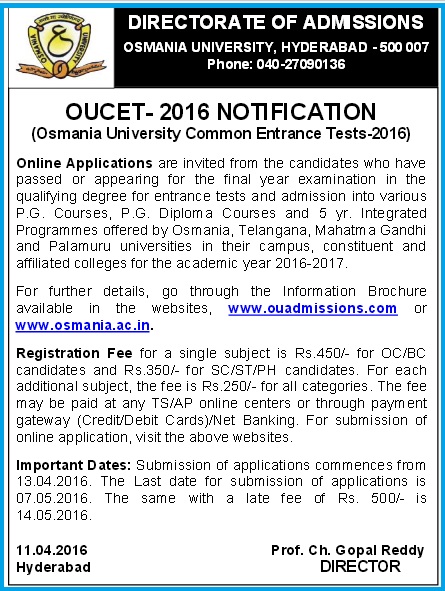 OU PGCET-2016
The aspirants who completed graduation in related subjects can apply for the OUPGET-2016. Interested aspirants who have passed or appearing for the final year examination during 2015-2016 are also eligibility to apply. 5% of supernumerary seats in each courses in university campus and constituent colleges are available to the candidate from outside Telangana under National Integration Quota(NIQ).The detailed information about the required qualification is available in the official website http://www.osmania.ac.in/ or http://www.ouadmissions.com/ Login to the official website to know eligible qualification to get into the admission in PG courses.
Courses Offered in OU
Nearly a total of 52 courses i.e PG Courses 39, PG Diploma Course 10 and 3, 5 years Integrated programmes offered by Osmania, Telangana, Mahatma Gandhi and Palamuru University
M.A., M.Sc., M.Com., M.C.J., B.L.I.Sc., M.L.I.Sc., M.S.W., M.P.Ed., M.Ed., etc.(PG Courses)
PG Diploma Courses.
5 year Integrated programs.
Submit OUCET 2016 Application Online Only
The desired aspirants, who wish to join in the fulltime PG course should apply in the Online mode only. The online submission of application will be available from 13-04-2016. For online application, applicants should login www.tspgecet.org or www.osmania.ac.in. No manual script application will entertain under any circumstances.
Important Dates OU PGCET – 2016
| S.No. | Item | Date |
| --- | --- | --- |
| 1 | Notification Date | 11/04/2016 |
| 2 | Application submission Commencement | 13/04/2016 |
| 3 | Last date of submission without late fee | 07/05/2016 |
| 4 | Submission with late fee of .500/-(For SC/ST Rs 250/- only) | 14/05/2016 |
| 5 | Submission with late fee of .2000/- | 22-05-2016 |
| 6 | With late fee of .5000/- | 28-05-2016 |
| 7 | With late fee of .10000/- | 02-06-2016 |
| 8 | Downloading of Hall Tickets | 23-05-2016 to 02-06-2016 |
| 9 | PGCET Examination dates | 30/05/2016 Onwords |
| 10 | Declaration of Results | 24-06-2016 |
Registration Fee for OUCET 2016
Candidates who wants to seek admission into OS PG fulltime course has to pay Rs 450/- towards as examination fee for a single subject. For backward caste(BC) candidates the registration fee is only 350/-. The examination fee for SC/ST/ candidates Rs 250/- only. If a candidate wish to apply more than one PG programme should pay separate registration fee for each test.
How to Pay Registration Fee?
The registration fee for OU PGCET 2016 may be paid at any TS/AP Online centers or through payment gateway like credit card/Debit Card or Net Banking. Demand Drafts or Cheque will not accepted.
Contact Us
The Director,
Directorate of Admissions,
Near PGRR Centre for Distance Education,
Osmania University Campus,
Hyderabad-500007,
Telangana
Read More