Overview TS LAWCET and PGLCET-2017
| S No | Description | Date |
| --- | --- | --- |
| 1 | Notification of TSLAWCET-2017  | 15-03-2017 |
| 2 | Start of Submission Registration of Online Application Form  | 18-03-2017   |
| 3 | Last Date for Submission Registration of Online Application Form without Late Fee  | 18-04-2017   |
| 4 | Last Date for Submission Registration of Online Application Form with Late Fee of 350/- (for SC/ST Rs.250/-) | 24-04-2017    |
| 5 | Last Date for Submission Registration of Online Application Form with Late Fee of 600/- (for SC/ST Rs.500/-) | 02-05-2017   |
| 6 | Last Date for Submission Registration of Online Application Form with Late Fee of 1000/-  | 10-05-2017   |
| 7 | Date and Time of TSLAWCET-2017 Examination 10.00 am to 11.30 am  | 27-05-2017   |
| 8 | Date and Time of TS LAWCET/TSPGLCET-2017 Examination 2.30 pm–4.00 pm  | 27-05-2017   |
| 9 | Announcement of Preliminary Key | 30-05-2017 |
| 10 | Last Date for Submission of Objections on Preliminary Key(10.00 am to 11.30 am) | 01-06-2017 |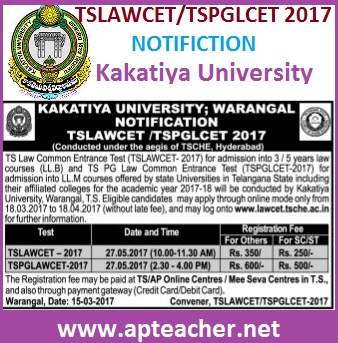 KAKATIYA University, Warangal has issued the TS LAWCET-2017/TS PGLCET-2017 notification under the aegis of TSCHE, Hyderabad. The Law Common Entrance Test(TSLAWCET-2017) for admission into 3 years and 5 years law courcess9LLB) and TS PG Law Common Entrance Test(TSPGLCET) for the admission into LLM courses offered by the state universities in Telangana State including their affiliated colleges for the academic year 2017-18.
More about TS LAWCET-2017 and TS PGLCET-2017, Important Dates, Eligibility, Apply Online, Affiliated Colleges, Helpline, Required Documents are as follows
Conducted by the KU Warangal
The TS LAWCET-2017 /TS PGLCET-2017 will be conducted by the KAKATIYA University, Warangal. The Telangana aspirants who willing to join LAW courses should take the examination. The application received only by the online mode only from 18-03-2017 . The last date for submission online without late is 18.04.2017.The applications sending by POST will not considered.
Important TS LAWCET 2017 Dates
| TEST NAME | Date and Time | Registration Fee |
| --- | --- | --- |
| TSLAWCET 2017 | 27-05-2017 ((10.00-11.30 AM) | Rs 350/- |
| TSPGLAWCET 2017 | 27-05-2017 (2.30 to 4.00PM) | Rs 600/- |
ELIGIBILITY CRITERIA TS LAWCET -2017
Aspirants of TS LAWCET 2017 should be Indian, have the qualification for LLB 3 Year Cours have passed Graduate Degree Examination of minimum three years duration of a recognised University with at least 45% marks of aggregate marks. For LLB 5 year course, the candidate should have passed two year Intermediate Examination(10+2 pattern) with at least 45% marks.
ELIGIBILITY TS PGLCET - 2017
Aspirants who wish to take TS PGLCET - 2017, holding LL.B./B.L. 3/5 Year degree on the date of application and candidates who have appeared/appearing for LL.B./B.L. Final year examination are also eligible.
Mandatory Documents to keep at the time of apply online
Aspirants of TS LAWCET 2017 must have mandatory details following documents at the time of Visit any of the TS Online / AP Online / mee Seva centers
Hall Ticket number of the Qualifying Examination
Name of the Candidate as per SSC Marks Memo
Candidate's Father Name as per SSC Marks Memo
Date of Birth of the Candidate
Hall Ticket number of S.S.C(10th Class)
Mobile number
Receipt for Registration fee with Transaction Id
Apply Online Only
The examination fee may be paid with at TS Online or AP Online/ Mee Seva Centers/ e-seva centers of TS and AP. Even you can pay through the payment gateway( Credit and Debit Cards) .
Affiliated Colleges
Kakatiya University (KU),
Mahatma Gandhi University (MGU),
Osmania University (OU),
Palamur University (PU),
Satavahana University (SU),
Telangana University (TU).
Help Line Contact
TSLAWCET - 2017 OFFICE
UNIVERSITY COLLEGE OF LAW,K.U,
SUBEDARI,HANAMAKONDA, WARANGAL – 506 001. TELANGANA Ph : 0870-2425595 :0870-2425596