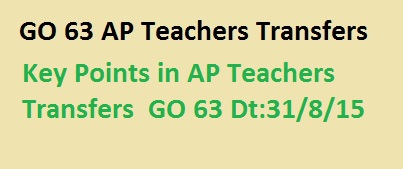 Go 63, Andhra Pradesh Govt. Teachers much awaiting Transfer Notification has been released. Many teachers has been downloaded the GO 63 from the website apteacher.net. The GO 63 Transfers of AP Teachers consists fourteen pages. More over reading all pages of GO 63 is tedious process. Keeping in view above here is an attempt to brief the total important information in AP Teachers Transfers GO 63.
Key Points in AP Teachers Transfers GO 63
The rules in GO 63 applicable to all Gr-II HMs, School Assistants, SGTs and it come into force with an immediate effect.
Transfers of AP Teachers processed through an online
Transfer schedule will be released by the Commissioner of School Education, AP.
Teacher who have completed 8 years of service in a same school and the HM who have completed 5 years of service in same school as on 1st August 2015 will be compulsory transfer.
Teachers/HM, who are going retire within two years from 1st August may not apply for transfers.
Teachers/ Gr.II HM who has completed a minimum period of two years of service.
The teachers who are shifted under Rationalization i.e. in PS and UP Schools and SGTs in High Schools (provided if required number of teacher posts are sanctioned in High Schools) shall participate in the Transfers Counseling irrespective of years of service in the station.
Transfers Entitlement Points - Common Points
Service Points of Transfers
Service in category IV areas Five (5) Points for every year of service
Service in Category III areas ( 12% HRA) Three (3) points per every year of service
Service in the Category II (14.5% HRA) areas Two (2) points per every year of service
Service in the Category I(20% HRA) areas One (1) point per every year of service.
Performance Points
The teachers who secured National or State award issued by the Central / State Government can be availed only once in the 8 year period. : 5 Points
Institution Related Performance Points
Increase in previous year's enrolment by 10- 20% is ensured during each of the last 2 years As per Child Info data base for the school : 2 Points
More Points
Attendance of children in a school by average year wise Above 95% is 2 points and 90% to 95% is 1 point.
100% Transition of children within their school or catchment area : 3 Points
School Average performance in SSC Exam 95% to 100% : points , 90% to 94.99% is 1 point.
Teacher attendance in the institution at present cadre : 3 points(95%) , 2 points( 90% to 94.99%)
If the children of Govt. teacher are studying during the last 2 years in Govt./Aided schools (If both are working as teachers, one of the spouse will be entitled for these points) : 2 points
Performance in SSC Results 100% : 3 points and 90% and above 2 points.
Participation in sport & games Points to be gives both for PET/HM : 3 to 1 points
Conduct of science exhibition at school level with local contribution inviting neighboring schools in the Mandal : 2 points.
Read More AP Transfers Related
Download GO 63 AP Teachers Transfers 2015 Rules Click Here