AP Govt has introduced new CFMS system instead of present DDO Request. The present Comprehensive Financial Management System (CFMS) enables the new salary system which is completely different from previous treasury system.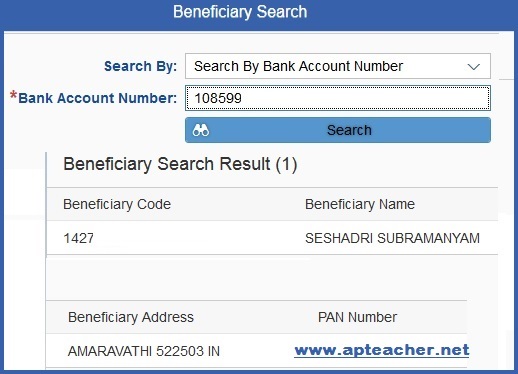 CFMS ID to AP Govt Employees
In the present CFMS system, every AP Govt Employee is allotted with new ID which is same like as treasury ID. Now employee can know their CFMS ID using the website https://cfms.ap.gov.in/. Now, After login to the website one can know their Employee CFMS ID using the following search method.
How to Know Your Employee CFMS ID
To know the Employee CFMS ID or Employee Beneficiary Code login to the website CFMS Employee ID Search In the loaded CFMS web page you can find Search by drop down and text field. In the search by dropdown you can find following list of options.
Search by PAN Number
Search by Aadhar Number
Search by Bank Account Number
Search by Name
Search by Beneficiary No
Search by Request Number
By opting anyone of the above listed option, one can get their Employee CFMS ID or Employee Beneficiary ID. This CFMS Employee Beneficiary ID will be used as to know employee pay details in future.
Read More CFMS Employee ID Related
How to Upload Employee Data in CFMS website Click Here