AP SSA has been issued Rc.No.02 regarding the launch of 45 days programme of School Readiness for classes I & II and Class Readiness Programme for Class II to X. As per Rc.No.2/SSA/A3/2015 Dt:18/06/2015 the School/Class Readiness programme will be start from 22nd June 2015 to 5th August 2015.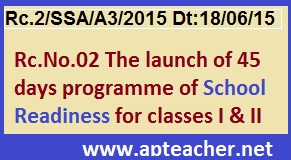 The School Readiness and Class readiness programme during the present academic year i.e. 2015-16 for a period of about 45 days from 22nd June to 5th August 2015 at the Primary, Upper Primary(UP) and High School(HS) level of education i.e. from class I to 10th. More specifically for School readiness is proposed for class 1st and 2nd and class Readiness classes from 2nd to 10th telugu and Urdu medium schools.
Focus is given to acquisition of basic language skills(LSRW) and Mathematical skills (4 Fundamental Process) 10 the children of classes 2nd to 10th of Telugu and Urdu medium schools and all Government schools including KGBV, IERC and model schools . In respect of school readiness, teacher will take up relevant playful activities in order to make the child ready Psychologically, Physically and sociologically and also to receive the instruction more in an informal way.
AP School Readiness Programme 2015
To ensure that every child seeking admission in to class I and II is Psychologically, Physically and sociologically ready to receive instruction in a child friendly environment.
School Readiness Programme Objectives
To make the children acquainted to school environment, thereby ensuring a smooth induction into the schooling system.
To create a child friendly environment in the school for class I students.
To make young children feel comfortable and happy to attend the school regularly without any fear.
To develop pre learning skills.
To expose the children to Early Reading early writing and early maths programme.
School Readiness Programme Plan of Action
The content of the programme is based on play, songs, rhymes, activities on Sensorimotor skills, scribbling, storytelling, picture reading. counting, arranging the objects in descending order and ascending order according to the size etc.
It is to inform to oil teachers that a day wise schedule and activites indicated in the module given to the school during the last academic year shall be followed.
The five word formulae of Aaia, Paata, Maata. Story and Creativity will be the process of achieving the objectives.
Teacher will collect additional information and stories on the topics given in School Readiness and have to be kept ready for the programme.
The programme should be in o novel way and teacher should be facilitator to drive the information from the students.
The programme is designed for children those who are lagging behind the basic skills among the children.
To implement the syllabus to normal students as it is.
School Readiness Programme Time Table
Morning & Afternoon Session for first class: (Pre Lunch) includes Action Rhyme, conversations stories, Creativity, Rhymes, Additional activities, and game.
Resource Support: Teacher will deal with the session directly using the relevant resource Material.
Download Rc.No.02 School Readiness 45 Days Programme 2015 Click Here