AP TET 2017 Online Application has been placed in the website https://aptet.apcfss.in as per the schedule and notification issued earlier as per the GO.91 Dt:11/12/2017. For AP TET-2017 prescribed syllabus for Paper-I & Paper-II Syllabus is also released. Aspirants who are eager to join in teaching professions by taking DSC exams need to pass AP TET Exam. The online AP TET application process, fee details, how to pay fee, how to apply online is as follows.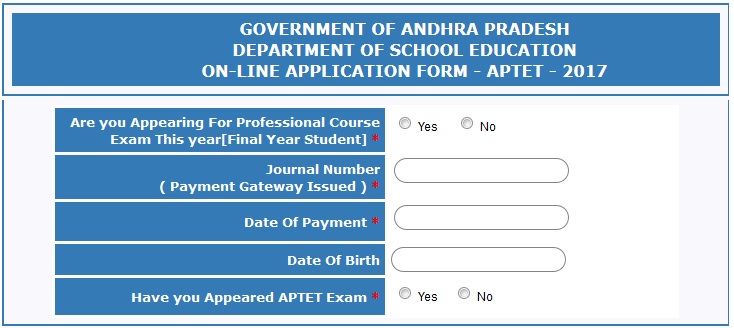 How to Apply APTET-2017 Online
Candidates have to login to the website https://aptet.apcfss.in in order to apply APTET-2017. Before going to apply online candidate has to pay examination fee online. It is better to read notification carefully before apply online.
Steps to APTET-2017 Online Fee Payment
Login to the website https://aptet.apcfss.in using the given web link
Then click on the online payment link provided in the home page
In the payment page fill Candidate name,
Fill the Mobile No, Choose Paper-I or Paper-II
Enter your date birth as in 10th Marks memorandum
Select whether you belongs to AP .. Yes/No
Enter the Amount Rs.500 for each paper ,
Fill the verification code as stated
Check the terns & Condition box then click on the submit button
Then you will get the Journal Number and take printout
Steps to APTET-2017 Online Application
After payment, you have login the Submit application through the link provided.
Click one the Submit application link to get application form.
If your final year student select Yes
Then fill the journal number
Enter the date of fee payment
Enter Date of birth in the text box provided
Then opt yes/no in the if appeared APTET Previously.
Fill the verification code to go further and click on the Upload button to complete the remaining process.
Details Required for APTET-2017
Name of Applicant :
Mother's name :
Father's name :
Date of birth :
Gender :
Community :
If Differently Abled(PH) :
Paper :
Language I Offered :
PAPER-II :
Your Question Paper Medium is :

Note: Your question paper medium is the same as language-I offered by you at S.No. 8a.

QUALIFICATIONS
Minimum Educational Qualifications for PAPER-II : B.A / B.Sc / B.Com with at least 50% marks AND pass in or pursuing 1 year Bachelor in Education (B.Ed).
Subject offered for paper-II if applying for classes 6 to 8 :
Do You Belong to Andhra Pradesh State :
Residential Address in Andhra Pradesh :
District :
Mandal :
Pincode :
Mobile :
SSC HallTicket Number :
Professional Course Details
Professional Course for Paper-II :
Studied at :
Hallticket Number :
Date Of Pass :
Aadhaar Number :
Have you Appeared TET CUM TRT Exam(2014) :
Have you Appeared APTET Exam : Yes
APTET-2017 Exam Centre Details
Opt from the list Preference 1 Preference 2 Preference 3 Preference 4 Preference 5
List Of Documents Required For Making Andhra Pradesh Teacher Eligibility Test-2017 (AP TET 2017) Online Payment,Submit Online Application:
Passport Size Photo
Signature On White Paper
Previous AP TET Exams Marks memos with Hallticket Numbers
10th Class Marks Memo
B.Ed/D.Ed/Professional Course Marks Memo
Aadhaar Card
B.Ed/D.Ed/Professional Course Studied College Details with Address
TET CUM TRT Exam(2014) Hallticket (If Appeared Only)
Read More about AP-TET 2017