All the RJDS and DEOs in the Telangana Sate are hereby informed that vide reference cited, detailed instructions have been issued on the implementation of academic calendar and other programs. In this regard there is a slight modification in the work load among the School Assistants of Physical Science and Mathematics as given hereunder.
Subject Wise Allotment of Periods per week in Primary, Upper Primary, and High School i.e for Classes VI, VII and Claases VIII, IX and X Separately.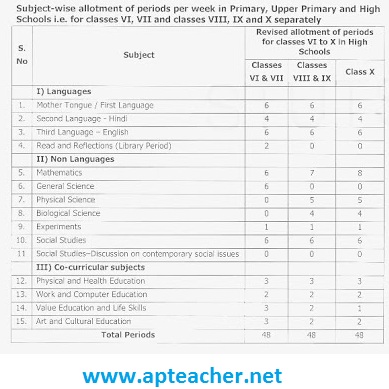 The School Assistants of Physical Science shall take up Mathematics classes for class VI along with Physical Science subject for Classes VIII, IX and X. The Maths School Assistants shall take up Mathematics subject for classes VII, VIII, IX and X. The education and computer classes shall be taken by Physical Science School Assistant. The Headmaster must plan for implementation of co-curricular activities by assigning the subjects to the teachers keeping in view of work load. Headmaster must see for the equal subject to the teachers combined for both curricular and co-curricular areas. The Headmaster shall develop time table for the school showing curricular arrears along with teachers responsible to teach the subjects and display in the headmaster room and staffroom. In case of second teacher for Mathematics is allotted for single section schools, the Mathematics classes for classes VI, VII and VIII may be allotted to second Mathematics School Assistant. The PETs/PDs shall take up monitoring of Mid Day Meal programme in the Schools.
In view of availability of staff, the Headmaster need to work out and see the allotment of periods equally to the Teachers to the extent possible.
Download Rc.77 Work Load Distribution Among SA(MM) and SA(PS) in High Schools Click Here