Rc 25 Rationalization and Transfers Latest Guidelines issued by the Smt.K Sandhya Rani Commissioner of School Education, Andhra Pradesh. The Proceedings Rc No.25 is issued based on AP Teachers Regulation of Transfers 2015 GO 63 and GO.66. All the RJDs and DEOs in of concerned districts follow the transfers/ regulation instructions as follows. The complete Rc No.25/Estt.III/2015 Dt:03/09/2015 as follows.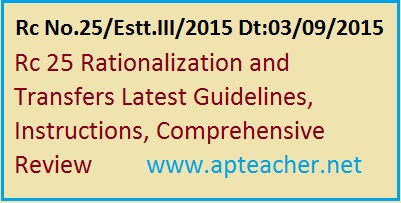 Rationalization of Schools/Posts/Teachers Guidelines
Rationalization schools in respect of Model Primary School should follow norms as per Go Ms No.39 Dt:07/08/2015, GO Ms No.51 Dt:07/08/2015.
Primary Schools with over 80 enrolment are not identified as Model Primary Schools.
G.O.Ms.No.55, Edn., dated 23.04.2011 should be followed the norms prescribed for all the Primary Schools. Rationalization exercise for Upper Primary and High Schools shall not be taken up during this year.
Adhar Data enrolment of students should be considered for the purpose of Rationalization and arrival of vacancies.
The requirement of teachers as per teacher pupil ratio in UPS / Upgraded Upper Primary Schools with VIII and High Schools shall be provided on work adjustment basis after completion of the transfer counselling.
All the Regional Joint Directors(RJDs) of School Education and the District Educational Officers(DEOs) in the AP state are informed that, instructions were issued in the This office Proc.Rc.No.25/Estt-3/2015 dated: 06.06.2015 to take up preliminary exercise of Resource Redistribution, Rationalization. After constituting a Mandal Level Committee, duly verifying the physical status, availability of teachers and enrolment of students in each school and in each Gram Panchayat/ Municipality the feasibility for Positive Consolidation of Primary Schools and identification of Model Primary Schools exercise was to be done.. The District Educational Officers furnished the details of the schools for Establishment of Model Primary Schools and the schools for Positive Consolidation. The same was forwarded to the Government.
Cutoff Date for Transfers and Rationalization
The cutoff date is considered for Rationalization, Transfers and all the purposes is to be taken as 31.08.2015 as per G.O.Ms.No.66, Edn., dated 02.09.2015.
Compulsory transfers
The teachers who have completed 8 years of service in one particular school should apply for transters.
All the Gr-II Headmasters of High Schools who have completed 5 years of service should apply online transfers.
The teachers shifted under rationalization must apply for transfers.
The Male Headmaster / teacher aged below 50 years as on 31.08.2015 and working in the Girls High Schools.
Teachers/Gr.II Head Masters Transfer counselling:
All the teachers and Gr.II HMs who have completed a minimum period of 2 years service in a school as on 31.08.2015 are eligible to apply for transfer.
All All the teachers and Gr.II HMs transfers should be done through web counselling only. The official AP Teachers transfers website address is cse.ap.gov.in
Teachers and Gr.II HMs Transfers shall be effected within the present management, Agency to Agency area and Plain to Plain area.
Preference shall be given to Headmaster Gr.11, who have studied the language concerned (Urdu / Tamil / Kannada / Oriya) Language as 1st Language / as main subject to the respective Medium Schools.
The teachers who were given transfer orders in the year 2013 and who were not relieved for want of substitute, after Rationalization exercise and arriving at the need in the schools, if need is established in the opted / transfer place all such teachers may be relieved.
Classification of towns / habitation
The District Collector concerned shall publish the list of habitations in respect of category IV area which do not have connectivity through an all whether road as per the norms of Panchayat Raj (Engineering Department). The District Collector concerned district to publish the list of such habitations on or before 08.09.2015.
Transfers Entitlement, Performance, Special , Rationalization, Minus points.
The performance related, institution related and individual related points should be certified by the Headmaster and counter signed by the Mandal Educational Officer / Deputy Educational Officer. Where possible, it will be cross verified with the Data base available for eg. SSA results data from Director of Government Examinations. Annual Assessment Survey 2015 data from SCERT; child information data from NIC etc. In case of teacher/HM claiming receipt of National /State Award such award should have been awarded by Government of Andhra Pradesh or Government of India.
Notification and Display of Vacancies
All existing clear vacancies in Model PS, other than Model Primary Schools, Upper Primary and High Schools as on 31.08.2015 as per teacher pupil ratio shall be displayed, except leave vacancies.
Unauthorized absent teachers vacancies whose absence is more than one year shall also be displayed.
Resultant vacancies after rationalization
All the vacancies arising due to compulsory transfers.
Resultant vacancies during counselling.
To ensure 70:30 ratio i.e. Promotion / Direct Recruitment.
Rc 25 Rationalization and Transfers Latest Guidelines Comprehensive Review Click Here
Read More AP Transfers Related
Download GO 63 AP Teachers Transfers 2015 Rules Click Here