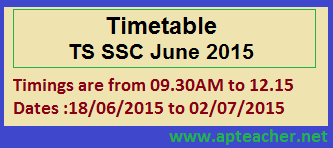 TS SSC Advanced Supplementary Examinations, June 2015 are scheduled to be conducted from 18/06/2015 to 02/07/2015. The supplementary examinations timings are from 09.30AM to 12.15 Noon. The examination to be conducted only for the candidates who registered and failed and who were absent in SSC Public Examination held in March 2015. No fresh candidates will be permitted.
SSC Exam June 2015 Fee Due Dates
The due dates of remittance of examination fee without penalty and submission of nominal roll extracts of once failed candidates as follows.
Without late fee 30/05/2015
With late fee of Rs 50/- Up to 2 days before commencement of exam in their subject concerned June 2015.
Last date for remittance of Examination fee by HM into the treasury 01/06/2015
Submission of extracted NR: 03/06/2015
SSC Examination Fee
Examination fee for above three subjects: Rs 125/-
Examination fee for 3 and below 3 subjects: Rs 110/-
Exam Fee Remittance Head of Accounts
Examination fee has to be remitted to the following Head of Account
0202 Education, Sports Arts & Culture
01 General Education
102 Secondary Education
06 Director, Govt Examinations
800 User Charges
| Date | Subject |
| --- | --- |
| 18-06-2105 | First Language Paper I |
| 19-06-2015 | First Language Paper II |
| 20-06-2105 | Second Language |
| 22-06-2015 | English Paper I |
| 23-06-2105 | English Paper II |
| 24-06-2015 | Maths Paper I |
| 25-06-2105 | Maths Paper II |
| 26-06-2105 | General Science Paper I |
| 27-06-2015 | General Science Paper II |
| 29-06-2105 | Social Studies Paper I |
| 30-06-2015 | Social Studies Paper II |
| 01-07-2105 | OSSC Main Language Paper I |
| 02-07-2015 | OSSC Main Language Paper II |
Download load fee remittance due dates Click Here
Download SSC June 2015 Examination Timetable Click Here