SVUCET-2017 notification has been released by Sri Venkateswara Universiry, Tirupati for admission into Post Graduation courses for the academic year 2017-18. This notification regarding the admission into PG courses called as SVUCET-2017. Sri Venkateswara University, TIrupati, invites online applications for admission into PG Courses offered for the year 2017-18(SVCET-2017), Details of Courses offered, registration fee, eligibility conditions, application form detils, information booklet are available in the website. The application form can be filled through online after going through instructions therein. For more details can login to the website www.svudoa.in.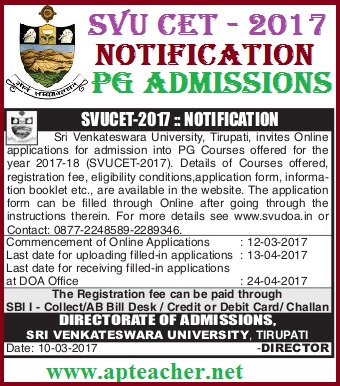 Overview SVUCET-2017
Issue of Notification 10/03/2017
Submission of Online Application from :12/03/2017
Last date for uploading filled-in application : 13/04/2017
Last date for receiving filling-in application : 24/04/2017
Entrance test :May 2017
SVU CET 2017 Application Fee
Application/Registraion fee should be paid through SBI I-Collect Online using Net banking. Aspirants can also pay through the payment gateways like Debit cards, Credit Cards.
SVUCET 2017 Helpline
For clarification on regulations and eligibility rules contact 0877-2248589, 2289346, 8686492092 on all working days between 10.00 AM to 05.30 pm.
SVUCET 2017 Eligibility
Aspirants must pass degree in concerned subjects related to PG Course. Final year students also can apply for SVUCET-2017.
SVUCET 2017 For more information
Complete information regarding SVUCET-2017 can get from www.svudoa.in. Candidates who wish to apply SVUCET-2017 submit their application through the online after reading the instruction booklet thoroughly.
SVUCET 2017 Syllabus
For entrance test of SVUCET-2017, candidates should study their degree subject thoroughly. Question paper is in multiple choice with no negative marks.