AP PECET 2015 Web based counseling notification for admissions has been released on 29/06/2015. This notification has been released on behalf of APSCHE, Hyderabad. The desired candidates who qualified in the AP PECET 2015 entrance examination for admission into UGDPEd., B.P.Ed both two years courses for the academic year 2015-16 in Andhra Pradesh are informed that certificate verification will be commenced on in the helpline centers specified below from 06/06/2015.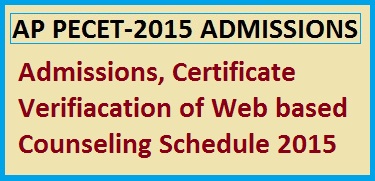 AP PECET 2015 Helpline Centers
The AP PECET 2015 web counseling process comprising of certificate verification will be conducted in as per the schedule shown at the following helpline centers .
| Place | Address |
| --- | --- |
| Ananthapur | Krishanadevaraya University |
| Guntur | Acharya Nagrjuna University |
| Tirupathi | Sri Venkateswara University |
| Visakhapatnam | Andhra University |
Schedule of Web Counseling Admissions
Schedule of Web Counseling & Admissions
Event

Course

Dates

Issue of Admission Notification

Both

29th June, 2015

 

Courses

 

 

 

 

Verification of Original Certificates and submission

B.P.Ed

6th July, 2015

of Xerox certificates at any Help Line centers

 

 

U.G.D.P.Ed

7th July, 2015

 
NCC & CAP Category candidates

 

B.P.Ed

6th July, 2015

Note: Centralized Certificates verification for CAP &

 

 

U.G.D.P.Ed

7th July, 2015

NCC candidates will be conducted only at Helpline

 

 

Center, Acharya Nagarjuna University.

It is

 

 

informed that other certificates of these candidates

 

 

will also be verified along with special reservation

 

 

category certificates.

 

 

 

 

 

 

Exercising options for Web based Counseling at any

B.P.Ed

7th & 8th July, 2015

Help Line centers / home / any other internet

U.G.D.P.Ed

8th & 9th July, 2015

facility

 

 

 

Issue of allotment letters (Candidates can download

Both

11th July, 2015

allotment order from website: : appecet.apsche.ac.in)

 

courses

 

Last date for admission into colleges and payment

Both

21st July, 2015

of tuition fee and special fee

 

courses

 

Commencement of Classes

 

Both

21st July, 2015

 

 

courses

 

Last date for submission of Vacancy positions after

Both

25st July, 2015

first phase admissions by the colleges to the

courses

 

Convener

 

 

 
Certificates to be need for Verification
The candidate should submit the following original documents and also one set of Xerox copies at the time of web counseling for verification. All the original certificates will be verified and the originals will be returned to the candidates. The candidates who got the allotment of seat should submit the originals to the colleges at the time of admissions.
APPECET-2015 Rank card & Hall Ticket
Degree / Intermediate or its equivalent pass certificate & Memorandum of Marks
Memo of SSC or its equivalent
Study Certificate giving the details of past seven years of study
Residence certificate for Preceding 7 years of the qualifying examination i.e., Graduation in respect of candidates who have private study without any institutionalized education
Integrated community certificate issued by the competent authority in case of BC/SC/ST candidates
Residence certificate of father or mother for a period of 10 years in A.P. excluding the period of their employment outside A.P. from M.R.O in case of Non local candidates
Transfer Certificate
Income Certificate as per the G.O. and rules in force.
One set of Xerox copies of all certificates.
In case of candidates seeking admission under SC, ST or BC Category, they have to submit an integrated community certificate prescribed by the Government and issued by the revenue authorities in the Government (Vide G.O.Ms.No.58, Social Welfare (J) Dept., Dt: 12-5-1997).
Candidates seeking the admission under CAP category should submit a certificate from the concerned Zilla Sianik Welfare officer in the prescribed proforma, along with original military discharge certificate, Identity card and pension certificate in case of pensioner. In case of children of serving armed forces personnel, they should produce a certificate issued by the commanding officer.
Candidates seeking the admission under NCC category should submit N.C.C Certificate issued by the appropriate authority
GENERAL INSTRUCTIONS TO THE CANDIDATES:
Applicants should attend the web based counseling as per the schedule given above.
All the qualified eligible candidates are called for certificate verification and web counseling.
The candidates have to appear for web based counseling at their own expenses with all original certificates.
Candidates who fail to appear for web based counseling will not get any further intimation from the office of the Convener.