Andhra Pradesh Public Service Commission (APPSC) has been issued notification 17/2016 for Departmental Tests November, 2016 Session. Candidates who wish to apply for departmental tests should apply online from 27/10/2016 to 17/11/2016 in the official website www.psc.ap.gov.in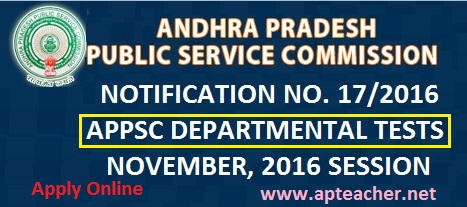 One Time Profile Registration (OTPR)
Applicants Shall Register Primarily Online in the official website www.psc.ap.gov.in . The process of registration is called One Time Profile Registration (OTPR). Once applicant registers his/her particulars, a User ID is generated and sent to his/her registered mobile number and email ID. Applicants need to apply for the Tests using the OTPR User ID through Commission's website. The applicants who had already generated OTPR earlier for last Departmental Tests, May, 2016 Session shall apply directly making use of the same number.
Overview of Departmental Tests Nov-2016
Date of issue of Departmental Test Notification: 26/10/2016
APPSC Departmental Tests Exam Schedule: 06/12/2016 to 11/12/2016
One Time Profile Registration Starts from 27/10/2016 to 17/10/2016
Online Application Starts from 27/10/2016 to 17/10/2016
Last date for submission of applications: 17/11/2016, 5 PM The Payment of fees shall be accepted till 11:59 PM of 17.11.2016.
Departmental Test, November 2016 Exam Dates : 06/12/2016 to 11/12/2016
GO.Test : 10/12/2016 FN &AN (GOT Paper Code: 88,97)
EO.Test : 11/12/2016 FN(EOT Paper Code: 141)
Last Date of Apply 17/11/2016, 5 PM
The application will be available on Commission's website www.psc.ap.gov.in from 27/10/2016. The last date for submission of online application is 17/11/2016 up to 5PM and the payment of fees shall be accepted till 11:59 PM of 17/11/2016. Hand written / Typed /Photostat copies/Printed Application Form will not be entertained either directly or by post Office or in person.
Examination Mode
Duration of the Examination
Time of the Examination
Fore Noon
After Noon
Objective Type Papers
2 Hours (120 Minutes)
9.00 AM - 11.00 AM
2.00 PM - 4.00 PM
Conventional Type Papers
3 Hours (180 Minutes) (Except PC.No.05, which is 2 hrs.)
9.00 AM – 12.00 Noon
2.00 PM – 5.00 PM (For P.C No. 5  2.00PM – 4.00 PM)
APPSC Dept Tests Nov-2016 Examination Centers
The Departmental Tests Nov-2016 will be conducted at all the 13 District Head Quarters and Hyderabad, except Departmental Test for Staff of APPSC, which will be held at Hyderabad only. The candidates shall be admitted at the respective District Centre only; where the candidate is presently working as mentioned in the application.
| CODE NO. | DISTRICT NAME |
| --- | --- |
| 10 | SRIKAKULAM |
| 11 | VIZIANAGARAM |
| 12 | VISAKHAPATNAM |
| 13 | EAST GODAVARI |
| 14 | WEST GODAVARI |
| 15 | KRISHNA |
| 16 | GUNTUR |
| 17 | PRAKASAM |
| 18 | P.S.NELLORE |
| 19 | CHITTOOR |
| 20 | KADAPA |
| 21 | ANANTHAPUR |
| 22 | KURNOOL |
| 23 | HYDERABAD |
Dept Test Nov-2016 Fee and Procedure
The fee for each Test is Rs. 200/-.
The candidate shall pay Rs. 500/- (Rs500/- + 200/-) towards application processing fee besides the examination fee.
The exam fee should be paid through Payment Gateway of Net Banking/ Credit card / Debit Card.
The fee once remitted shall not be refunded or adjusted under any circumstances. Failure to pay the examination fee, application fee will entail total rejection of application.
IPOs / Demand Drafts are not accepted.
Steps to Fill the Application Form
The applicant has to fill the OTPR application to obtain ID Number. While filling the same, the candidates have to ensure that there are no mistakes in it.
The applicant has to fill and submit Application and Click on the Link with Notification Number and Name, OTPR ID Number and Date of Birth to proceed further.
Applicant has to verify the details as obtained from OTPR database displayed on the screen. If any details are to be changed, applicant should go back to the website and use the Edit OTPR link.
Candidate has to opt Examination Centre, eligibility and accepting declarations etc. are to be filled by the applicant.
Preview and Edit facility is available to make changes and submit for proceeding to Next step of making online payment of fee. Based on the Exams
Select an Exam Fee ID is generated and sent through the SMS/email, which is to be used for payment of Fee.
Once the Exam Fee ID is generated, select the payment of Fee option for paying through either Net banking/ Credit card/ Debit card.
After payment of fee, the PDF Application will be generated which contains the particulars furnished by the applicant. The ID No in the PDF Application form has to be quoted for future reference/correspondence.
Read More APPSC Related