Summative Assessment –I(SA-I) Examination has been postponed and cancelled due to leakage of question paper. The cancellation of summative examination in 13 districts of Andhra Pradesh is as per the Rc. No. 3/B/C&T/ SCERT/2016 Dt: 14/09/2017. About the leakage of question papers leakage of Summative-I, a lot complaints has been received by the Director of School Education(DSE). In this regard Commissioner of School Education has been decided to cancel the SA-I examination which was held from 11/09/2017 to 14/09/2017 and also examination to held from 15/09/2017 to 18/09/2017. Time Table for re-examination will be intimated shortly. The complete cancelation of Summative Examinations as per Rc.3 Dt: 14/09/2017 is as follows.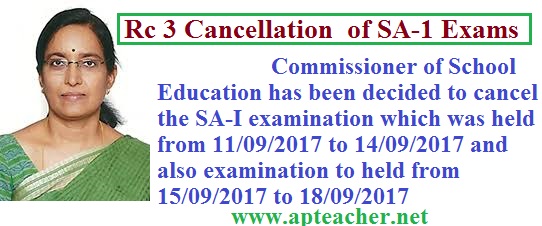 All the DEOs in the State are informed that a lot of complaints are received regarding the leakage of Summative-I(SA-I) Question Papers. Hence, all the examinations held for classes VIII — X held from 11/9/2017 to 14/9/2017 are cancelled. And examinations to be held from 15/9/2017 to 18/9/2017 for classes VI to X are postponed. The new schedule for Summative-I Re-examination will be issued shortly.
Further, the DEOs are instructed to conduct enquiry through Deputy Educational Officers about the leakages that occurred in you district and take appropriate action against Headmasters, Teachers, MEOs and other school managements who indulged in leakage of Questions Papers. Compliance report in detail along with action taken / proposed against the leakage of Question Papers may be submitted by 18/9/2017.
Download AP Rc 3 Dt:14/09/2017 Cancellation and Postponement of SA-1 Exams AP Click Here