APPSC DEPARTMENTAL TESTS MAY- 2014 SESSION
DEPARTMENTAL TESTS FROM 14-10-2014 to 19-10-2014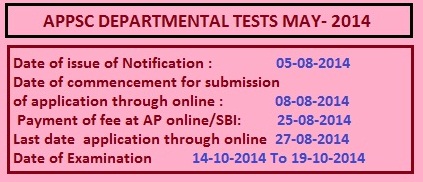 The Commission is inviting the Departmental Tests applications from the candidates for MAY, 2014 Session Examinations through ON-LINE only on payment of Rs.50/- for each Test. Application Form, Time-Table and other full details are available in the Commission's Website http://www.apspsc.gov.in. Applicants shall apply the Departmental Test for MAY, 2014 Session examinations through ON-LINE ONLY from 08-08-2014 to 27-08-2014 (from 08-08-2014 to 25-08- 2014 for payment of fees) as the earlier procedure of sale of applications at the Head Post Offices at District Head Quarters and at SALES COUNTER of APPSC Office has been dispensed with by the Commission. The candidate should read the Commission's Notification and other instructions available in User's Guide carefully before applying the Test and enter the particulars properly in the Application through ON-LINE.
ELIGIBILITY TO APPEAR FOR THE TEST :
ONLY THE EMPLOYEES WORKING IN THE RESPECTIVE DEPARTMENTS OF ANDHRA PRADESH ARE ELIGIBLE TO APPLY FOR THE TESTS MENTIONED BELOW. However, Secretariat employees wherever the rules permit are allowed to appear for any Departmental Test in order to get eligibility for appointment by transfer/ promotion to other Services, on payment of the prescribed fee.
REMITTANCE OF FEE:
(i) a) THE FEE PAYABLE FOR EACH PAPER mentioned in the Time-Table of this notification SHALL BE Rs. 50/- (RUPEES FIFTY ONLY). However, no fee is prescribed for the Tests in Gujarathi and Marwari Languages.
b) The applicant should pay Rs.50/- towards application fee for each Test, and examination fee @ Rs.50/- for each paper payable to the Secretary, A.P. Public Service Commission, Hyderabad through Challan in any branch of State Bank of India / A.P. ON-LINE Centre from 08-08-2014 TO 27-08- 2014( from 08-08-2014 TO 25-08-2014 payment of fees) After submission of the details in the Online Form, the Challan will be generated in Downloadable/Printable PDF (Portable Document Format). Candidates are required to take printout of the challan. Through Challan Form candidates are required to pay the amount as indicated in the Challan in any branch of State Bank of India / A.P. ON-LINE Centre. The fee once remitted shall under any circumstances be refunded or adjusted. Failure to pay the examination fee, application fee will entail total rejection of application. (Government removed all fee exemptions vide G.O.Ms.No. 360, General Administration (Services-C) Department, dated: 16/08/2002). The list of Branches of State Bank of India / A.P. ON-LINE Centre is available in Website http://www.apspsc.gov.in.
ii) IPOs / Demand Drafts are not accepted.
Download the complete notification Click Here
The viewers are requested, if any link provided here is found false please feel free to mail to rectify the error and make use of all teachers and Studens of Andhra Pradesh . Our contact information and mail is sesadri@gmail.com . Google+
or Facebook
See my profile at