Memo.20027 has been issued regarding Rationalization of DDOs in the School Education Department by the AP Finance Department. AP Govt. has agreed to rationalize 4633 high school DDOs to 666 MEO DDOs. All the DDOs(Head Masters of High School ) are requested to verify the DDOs list which are upgraded and allotted to new DDO Codes. If not able to find allotted DDO codes, DDOs of High School should furnish the details of school along with jurisdiction of MEO in the prescribed proforma.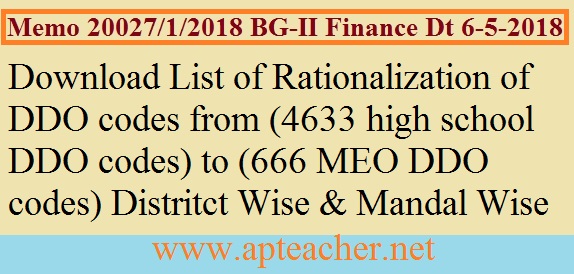 Overview of Latest DDOs
HoD: Department of School Education
Existing Number of DDOs: 4633
Proposed to reduce DDOs list : 666
Implementation is from 1st June 2018
The implementation shall be with effect from 1.7.2018. The Director of Treasuries and Account, AP and the CFMS team are requested to initiate necessary action immediately for implementation of rationalization of DDOs.
References to New DDOs Proposal
Memo No 630/Budget.II/2015, dt 9-11-2015 of Finance Department
U.O. Note No. 88088/444/Budget.II/2015 dt.30.12.2015 of Finance Department
Lr Rc No AII/Spl/217-18 dt 02.02.2018 of Commissioner of School Education AP
C No ESE01-18023/17/2018 General Sect-Dept of School Education Dept
Download Merged List of Allotted 666 DDO in Department of Education Click Here