Swachh Bharat Swachh Vidyalaya: A National Mission Water, Sanitation and Hygiene in Schools play a significant role in determining the health of children, attendance, dropout rate, and learning outcomes. The provision of water, sanitation and hygiene facilities in schools secures a healthy school environment and protects children from illness and exclusion. It is a first step towards a healthy physical learning environment, benefiting both learning and health. Children who are healthy and well-nourished can fully participate in school and get the most from the education beingimparted.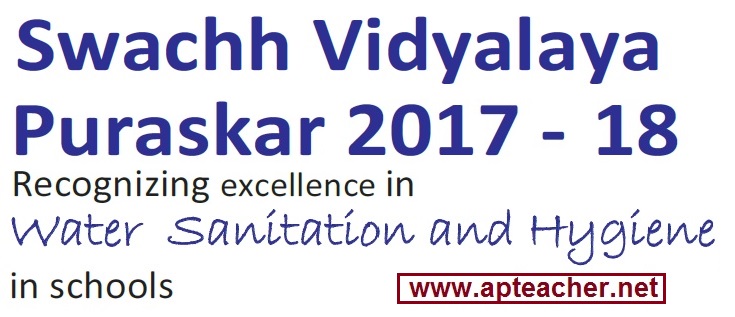 2. Swachh Vidyalaya Puraskar 2017 – 18
The Swachh Vidyalaya Puraskar (SVP) was instituted in 2016 - 17 by the Ministry of Human Resource Development, Department of School Education and Literacy, Government of India to recognize, inspire and celebrate excellence in sanitation and hygiene practice in Schools. The explicit purpose of the awards is to honour schools that have undertaken significant steps towards fulfilling the mandate of the Swachh Vidyalaya Campaign. SVP 2016 - 17 received overwhelming response with over 2.5 lakh schools from 35 States and UTs submitting the entries. SVP 2017 - 18 builds on experience and success of SVP 2016 - 17

.
3. Who is eligible for the Awards?
The awards will be open to (a) Government and aided schools; and (b) Private schools, in both rural and urban areas.
4. Methodology for Selection of Schools for the Awards
The process for identifying and recognizing schools for awards is as below:
Schools will register and submit information as per the prescribed format (Annexure 1) made available online (http://mhrd.gov.in → Swachh Vidyalaya → Swachh Vidyalaya Puraskar 2017 - 18) or by downloading a mobile app, Swachh Vidyalaya Puraskar 2017 - 18. The mobile app can be downloaded from Google Play Store. The registration of schools would be done with the U-DISE code of the school.
The website/mobile app was customized to cater to different categories of schools.
Schools are expected to provide accurate information as required in the format.
The information in the format corresponds to the requirements in Swachh Vidyalaya guidelines. Annexure 2 provides the list of indicators categorised under (a) Water (b) Toilets (c) Handwashing with Soap (d) Operations and Maintenance and (e) Behavior Change and Capacity building.
Maximum weightage assigned for each of the Sub-categories is given in Table 1:
| Sub-Categories | Maximum Score |
| --- | --- |
| Water | 22 |
| Toilet | 28 |
| Handwashing With Soap | 20 |
| Operations And Maintenance | 15 |
| Behavior Change And Capacity Building | 15 |
| TOTAL | 100 |
School Rating Scheme
| | |
| --- | --- |
| Score                                                                 |   Star Rating                     Remarks |
| 90% - 100% of the Norms | *****                             Excellent Keep it up!! |
| 75%- 89% adherence to the Norms | ****                                Very Good |
| 51% - 74% adherence to the Norms | ***                                  Good, but there is a scope for improvement |
| 35%- 50% adherence to norms | **                                    Fair, Needs Improvement |
| Below 35% adherence to the Norms | *                                       Poor : Needs considerable Improvement |
Download Swachh Vidyalaya Puraskar 2017 – 18 SVP 2017-18 by MHRD Click Here