Rc 2607 School Grants, Maintenance Grants Utilization guidelines for the academic year 2015-16 has been issued by SSA, AP. Teachers of Primary, UP , High School should follow the norms of AP Rc No.2607 without any deviation. The complete details of Rc No. 2607 Grants and Utilization norms as follows.
Guideline to Use School Grants 2015-16
For each Primary School Rs 5000/- will be given.
For each Upper Primary Schools Rs 7000/- will be given.
For purchasing science materials, School library and other daily needs like Piece of Chalk, Pens, Pencils, Note books, Duster this grant will be used.
Purchasing of Science Materials, Chemicals, Computer related education material these grants should be used.
Before purchasing all materials the school head must take consent of school management committee.
Toilets Maintenance, Electricity bills these grants should be used.
Drinking water and its repairs purpose these funds should be used.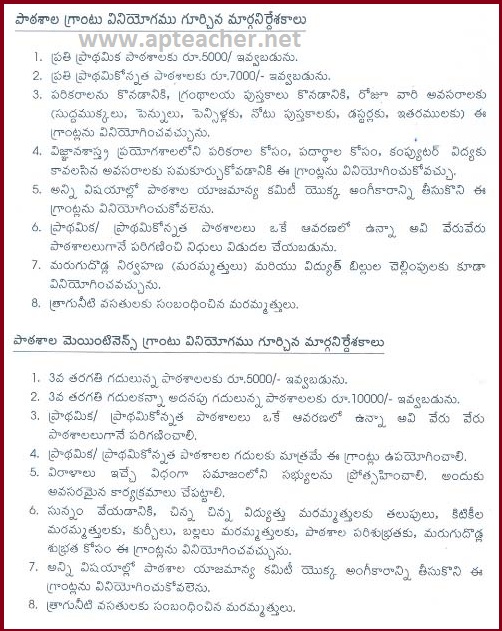 School Maintenance Grant Utilization Guidelines 2015-16
School Rooms with three will get Rs.5000/- as School Maintenance Grant.
School Rooms with more than three will get Rs.10,000/- as School Maintenance Grant.
If Primary School and UP Schools in the same premises than these schools treated as separate schools.
School grants should be used for PS and UP class rooms.
White wash, Electrification repairs, Windows repair, Chairs, Table repairs, School cleaning purpose these grants will be used.
These grants should be used with consent of school management committee.
Drinking water related repairs
AP Rc 2607 School Grants, Maintenance Grants Utilization Guidelines 2015-16 Click Here