AP SSA Education Department has been issued Lr.Rc.No.746 regarding the intimation of Tenure of SMCs completion on 29.06.2015 and necessary arrangements for release of funds to contractors and the SMC chairperson will be as in-charge chairperson. The complete proceedings Rc.No.746 as follows.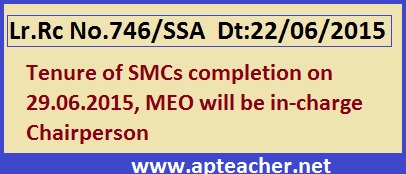 In continuation of this office letter, cited, I am to inform that the tenure of the present SMCs in the state will be expiring by 29.06.2015.
In this connection I am to inform you that the construction to toilets in the schools are in full swing and many payments will be required to be released by SMCs to the contractors. Other development activities will be also affected.
In view of above, I request you to be keep MEO of the concerned Mandal as in-charge Chairperson of the SMC with school Head Master and School Complex Head Master as joint signatories for releases of payments till the formation of new SMCs.