Head Master Account Test December-2016 Notification has been released by Board of Secondary Education and Director of Government of Examinations, Andhra Pradesh. For this BSE AP issued press note on 22/10/2016. The details of Application form to fill, Fee Due dates, Examination Dates, Downloading the Hall Tickets for HM Account Test. The complete Head Account Test Notification Rc No.158/E1/HM A/c/2016 Dt:22/10/2016 is as follows.
Its is here by notified that the Head Master's Account Test will be conducted in the monthe of December,2016. The examination will be in two papers Paper Paper-I & II repectively. The test will be conducted at the following places.
HM Account Test Exam Centers
Visakhapatnam
Kakinada
Guntur
Kadapa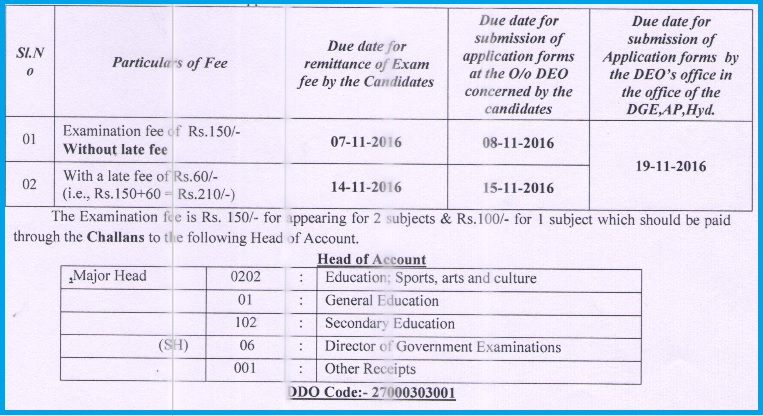 The following are the due dates for remittance of Examination fees and submission of application form.
HM Test 2016 Fee Due Dates
S No
Particulars of Fee
Due date for remittance of Exam fee by candidates
Due date for Submission of application forms at the O/o DEO concerned candidates.
Due date for submission of Application forms by the DEO's office in the office of the DGE, AP, HYD.
1
Examination fee of Rs.150/-
07/11/2016
08/11/2016
19/11/2016
2
With a late fee of Rs.60/-(i.e.Rs150+60)
14/11/2016
15/11/2016
The Examination fee is Rs.150/-, however for appearing 1 subject Rs.100/- should be paid through the challans to the following Head of Accounts.
Head of Account for HM Account Test
0202-Education,Sports,Arts and Culture
01- General Education
102-Secandary Education
06 - Director for Government Examinations
800- User Charges
D.D.O Code: 27000303001
Desired candidates who wish to appear for the examinations are informed to download the application form the official website www.bseap.org. and filled application form should be submitted in concerned DEO's Office as per the schedule.
Instructions to the Candidates at the time of Examinations
Candidate should have their Hall Ticket-cum-Identification Certificate ready with them for inspection by the Superintendent of the examination center at any time during the examination.
The Hall Ticket-cum-Identification Certificate should be preserved by the candidate even after the examination until the results are announced and produced if demanded during this time.
A copy of the time-table and instructions issued therein should be scrupulously observed.
Candidates should carefully scrutinize the nominal rolls put up on the Board a day or two before the commencement of the examination and inform the Chief Superintendent immediately, if there is any mistake relating to name, register number as given in the hall ticket, subjects offering medium, etc. If they fall to report promptly to the Chief Superintendent any omissions or mistakes in the nominal roll. The entire responsibility rests with the candidates.
Related Downloads
HM Account Test Notification 2016 Download Click Here
HM Account Test Application Download Click Here