All the Regional Joint Directors of School Education and District Educational Officers in the stare are informed that, it is decide to conduct Common Summative Examination-III(SA-III) for High Schools from 06/03/2017 to 20/03/2016 and for Primary Schools from 15/03/2017 to 18/03/2017. As it is common examination across the state, conduct examination without any deviation.
Revised SA-3 Time Table for the Classes VI to IX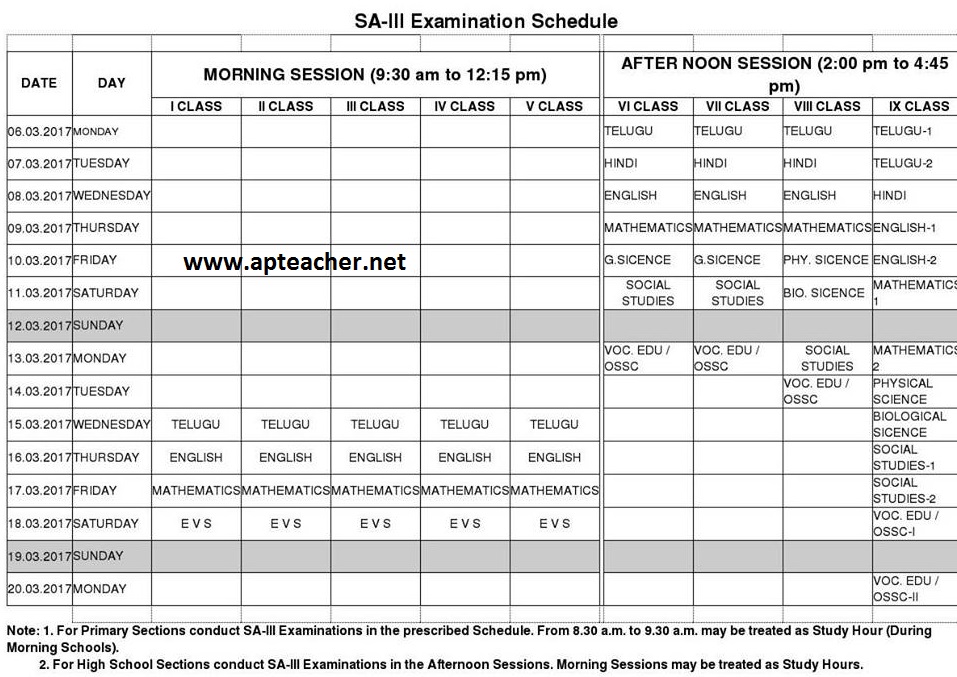 Conduct SA-I, SA-II examination for the absentees from VI to X from 13/02/2017 to 20/02/2017. In this regard all the RJDSEs, District Educational Officers in the state are requested to communicate examination schedule to all schools and under all managements in respective districts and also follow the guidelines mentioned .
The complete time table for conducting Summative-III examination for the classes VI to IX is as follows. The abbreviations for FL=First Language, SL= Second Language.
Read More Summative Exam Related
Rc.3 AP Summative Assessment-III | SA 3 Examination Time Table March-2017 Click Here