GO 82, Continuous and Comprehensive Evaluation(CCE) and Implementation of Examination reforms for the classes 6th Class to 9th Class for the academic year 2015-16 and for 10th class as per GO Ms No.82 Dt: 29/10/2015 the system will be implemented from the academic year 2016-16. The complete Go 82 CCE Implementations is as follows.
Subject 
Total Marks 
Marks for final Public Exam 
Internal assessment marks ( 4FAs and 3SAs )
First Language Paper I (Telugu/ Sanskrit/ Kannada/ Odia/ Tamil/ Urdu)
50 marks
40
20
First language Paper-2 (Telugu/ Sanskrit/ Kannada/ Odia/Tamil/Urdu)
50 marks
40
Second Language (Telugu/ Hindi)
100 marks
80
20
Third Language Paper-1 (English)
50 marks
40
20
Third Language Paper-2 (English)
50 marks
40
Mathematics – Paper 1
50 marks
40
20
Mathematics – Paper 2
50 marks
40
Science-Paper-1 (Physical Science)
50 marks
40
20
Science Paper-2 (Bio Science)
50 marks
40
Social Studies – Paper 1 (Geography & Economics)
50 marks
40
20
Social Studies – Paper 2 (History & Civics)
50 marks
40
Total 
600 marks 
480
120
Composite Course - Sanskrit Paper – 1
70
60
20
Composite Course - Sanskrit Paper – 2
30
20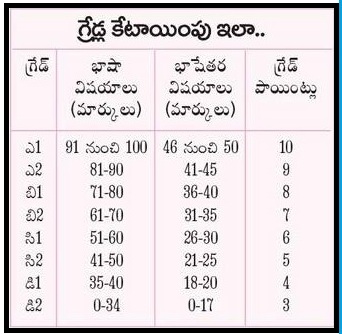 Expert Committee Recommendations on CCE
The constituted CCE implementation committee has submitted the report. The committee has suggested the following recommendations.
CCE will be implemented from class VI to IX during this academic year (2015-16).
For the academic year 2015-16, old examination pattern will be followed for the class X, and CCE will be implemented from the academic year 2016-17
Implementing of CCE in X Class from the academic year 2016-17 is the responsibility of AP SCERT.
Marks weightage in Examination
Language subjects : 40 marks per paper and the examination duration 2 hours and 30 minutes .
Non language subjects : Mathematics, Science and Social Studies – Every subject will have two papers and each paper is for 40 marks and the examination duration is 2 hours and 30 minutes.
Exam and internal assessment : The Summative Examinations which are school based for class VI to IX and the final summative is of public exams at class X conducted by Director, Govt. Examinations. Each subject will be conducted for 80% of marks and 20% of marks internal assessment.
Conducting Trainings for Implementation CCE – Responsibilities
DEOs, Dy. EOs, MEOs, HMs and teachers should be trained in participatory approach for effective implementation of CCE.
School Headmaster is the first level monitoring authority, responsible for school performance so he should be trained well.
All teachers should be trained well to adopt interactive oriented pedagogical approaches in classroom transactional process, how to frame thought provoking, analytical, creative, open ended questions and evaluation procedures.
All monitoring officials should to observe implementation of CCE and the Responsibility should be fixed to implementation FA which plays a dominant role in CCE.
Implementation of Co-Curricular Areas Assessment Procedure
Debates, discussions, projects, seminars, field works, model making, lab activities, literary association meetings, club activities, games and sports should be observed as part of co-curricular activities.
No public exam shall be conducted in these Co-Curricular Areas . Teachers shall observe and award marks during quarterly, half yearly and annually.
Teacher should observe the level of participation, interests towards across curricular activities, skills and abilities.
SCERT should develop suggestive Co-Curricular Assessment tools to enable the teachers to develop and utilized tools in proper manner.
Part time teachers are to be appointed for co-curricular areas like dance, music, drawing, computers, work experience.
Assessment Procedure Curricular Areas
Ability of student learning competency should assessed by Formative Assessment(FA) in addition to Summative Assessment(SA).
Formative Assessment Procedure
Children participation and reflection : 10 Marks
Project works : 10 marks
Written works : 10 Marks
Slip test : 20 Marks
Assessment Procedure of Summative Assessment
There are 3 Summative Assessments per academic year.
SA 1 and SA II question papers for Class VI to IX should be developed by concerned District Common Examination Board.
For SA I and SA II each paper contains 80 marks for class VI to VIII only, However, 40 marks for each paper in Class IX and X.
SA III final examination question papers Class VI to IX should be prepared by SCERT and Mail to all DEOs for printing and distribution.
Weightages, number of questions, nature of questions should be similar for all classes.
The nature of test items
Non language subjects (Science, Mathematics and Social Studies)

Essay type questions.
Short answer questions.
Very short questions
Objective type questions – Multiple choice questions.

Languages subjects – Telugu and other Indian languages

Reading comprehension
Writing
Creative expression
Vocabulary
Grammar

Language – English

Reading comprehension
Vocabulary
Creative writing
Grammar
Objective type questions which are multiple choice in nature.
Questions – Choice

Download GO 82 Implementation CCE and Examination Reforms for Classes VI to IX Click Here