CCE Hand books and Modules for Teachers
CCE useful Hand books for teachers
TOP RATED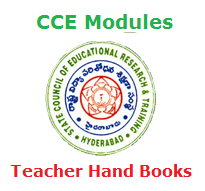 On the basis of guiding principles of NCF 2005, RTE 2009 and SCF 2011, the new textbooks are designed. The new textbooks have been developed on linking the classroom experience with the real life experience which the pupil faced outside the classroom. With the specific features or indicators the holistic treatment of language certain discourses are identified for Primary and Upper Primary level classes. The entire classroom process is aimed at achieving the targeted discourses. A detailed transactional process has been suggested to achieve the discourses targeted in each class.
The modules which is provided to teachers, contains the classroom transactional process for all classes. The identified discourses in each reading slot/segment, a detailed discourse process for oral and written discourses, classroom theatre, teacher development and CCE based model question papers. A special package to bridging the gap is also included for acquiring the minimum competencies among the children in developing discourses like description, conversation and narrative or story before starting the transaction of units.
This provided module would certainly help the teachers to follow the transactional process in achieving the academic standards in all classes among all children. The SCERT AP Hyderabad appreciates the efforts of the members of the textbook development committee in developing this handbook for the benefit of the teachers.
Here are the list of hand books related to CCE, click the link to view and download
RTE Act 2009-Quality Issues-Teachers Handbook View/Download
CCE General Module View/Download
PS Level Hand Book for Maths Teachers View/Download
Primary EVS Updhyayula Karadeepika View/Download
Primary Teacher's Handbook on New English Textbooks of classes I to V 2013 View/Download
Primary Telugu Updhyayula Karadeepika View/Download
Primary School Module in Urdu View/Download
UP Level Hand Book for Maths Teachers View/Download
Maths Module for UP level RP'S View/Download
The viewers are requested, if any link provided here is found false please feel free to mail to rectify the error and make use of all teachers and Studens of Andhra Pradesh . Our contact information and mail is sesadri@gmail.com . Google+
or Facebook
See my profile at